New Patients at Dalkeith Chiropractic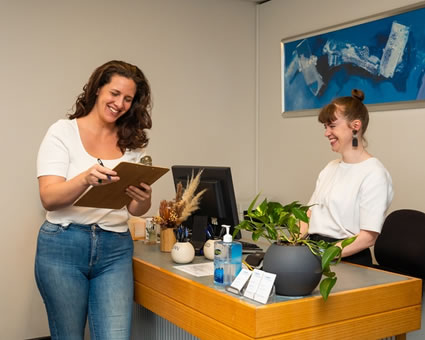 Your healing process begins with your very first contact with Dalkeith Chiropractic. Treating you with empathy and respect, our processes are soothing and patient-centred, and we aim to go above and beyond at every stage of your healing journey.
We suggest that you wear comfortable clothing for your consultation. You may also bring any recent imaging reports.
Your First Visit
When you enter our clinic, our reception staff will greet you and make you comfortable. After completing your initial intake form, you'll be guided through to a private room where you will meet with your chiropractor.
Your consultation is a fact-finding mission in which we discuss your health history in order to understand the underlying cause of your symptoms or condition. We will then conduct a thorough examination, including a posture analysis.
If your chiropractor believes X-rays are needed to confirm a diagnosis, we will refer you out for those.
This visit is typically 30-45 minutes. We'll let you know when you book in if your situation will differ.
Schedule Today
With a patient-centred mindset, we strive to make getting care convenient and accessible. We have extended opening ours (including Saturdays), ample on-site parking and same-day or next-day appointments. We also accept EBV and DVA, with HICAPS available.
Contact us today to book in.
CONTACT US


New Patients at Dalkeith Chiropractic | (08) 6161 0769