About Dalkeith Chiropractic
Our Philosophy
At Dalkeith Chiropractic, our philosophy is to provide care that is gentle and tailored to your needs, helping to alleviate musculoskeletal conditions without the use of drugs or surgery. We aim to get to the cause of the problem, not just address the symptoms. Our experienced chiropractors provide this gentle approach to care using Advanced Biostructural Correction™ (ABC™), a chiropractic technique that is geared towards restoring proper structural alignment and posture.
The History of Our Practice
Chiropractors Dr Paul Harlond and Dr Jenae Reid are a husband-and-wife team who co-own our clinic. With over fifteen years' experience in practice, both are certified in ABC and offer care for children through seniors. Dr Paul is also certified in Webster Technique, while Dr Jenae holds Level 1 and Level 2 certifications in Network Spinal Analysis.
They are joined by Dr Glenn Neil who, along with over fifteen years' experience as a chiropractor, is an ABC instructor.
MEET THE TEAM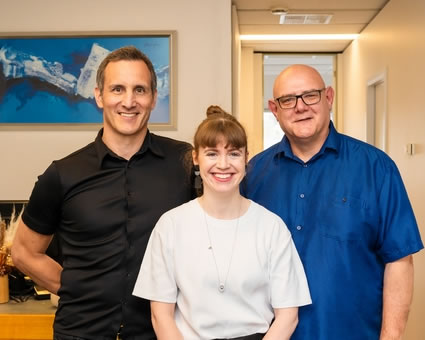 Our Patient-Centred Approach
Your healing journey begins with your very first contact with our practice. When you call in, our reception staff will treat you with courtesy and respect and help make you feel welcomed before you ever set foot in our relaxing, soothing space.
ABC is different from other chiropractic techniques in that it only adjusts joints that the body can't self-correct. This gentle, full-body manual adjustment method relies on testing to determine which joints are out of alignment and which the body has the musculature to correct. We adjust only the joints that the body can't correct on its own. This method is not focused on traditional twisting or cracking methods, and patients are often surprised at how gentle it is.
Your care program is tailored specifically to you, and we will do periodic reviews to ensure that you are moving towards your goals.
Schedule Today
Your convenience is important to us, so we offer extended opening hours and Saturday hours. We also accept EPC and DVA, with HICAPS claiming available.
Contact us today to book in for your appointment.
CONTACT US

About Dalkeith Chiropractic | (08) 6161 0769